Features
1. TADN series compact cylinder accord with ISO21287 standard.
2. TADN series cylinder with compact structure, derived lots of variety types, and wide range of applications.
3. Both end use rubber gasket to absorb the remaining energy of the high speed movement and the machine cycle.
4. Every ammsebly way has large number of accessories, so it is very simple.
5. There are two reverse bar positioning on each side to enhance the load capacity for smoother operation.

Internal Structure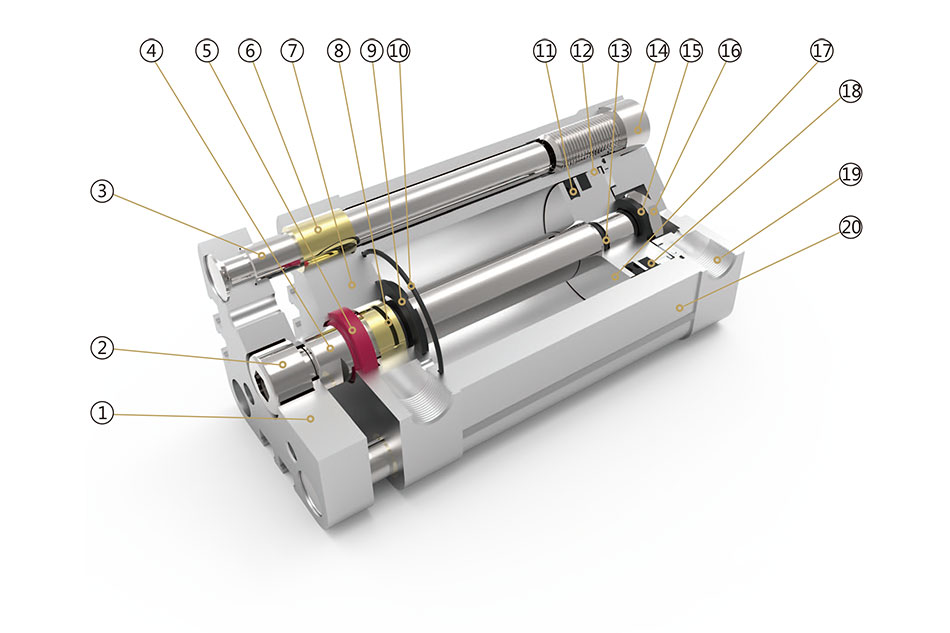 Parts
| | | | |
| --- | --- | --- | --- |
| Number | Name | Number | Name |
| 1 | Fixed plate | 11 | C ring |
| 2 | Socket head screw | 12 | Anti-friction seal |
| 3 | Guide rod | 13 | O ring |
| 4 | Piston rod | 14 | Cover screw |
| 5 | Dust ring | 15 | Small gasket |
| 6 | Copper tube | 16 | Hexagon nut |
| 7 | Front cover | 17 | Piston |
| 8 | Bearing | 18 | Magnet |
| 9 | Anti-collision gasket | 19 | Back cover |
| 10 | O ring | 20 | Barrel |

Ordering Code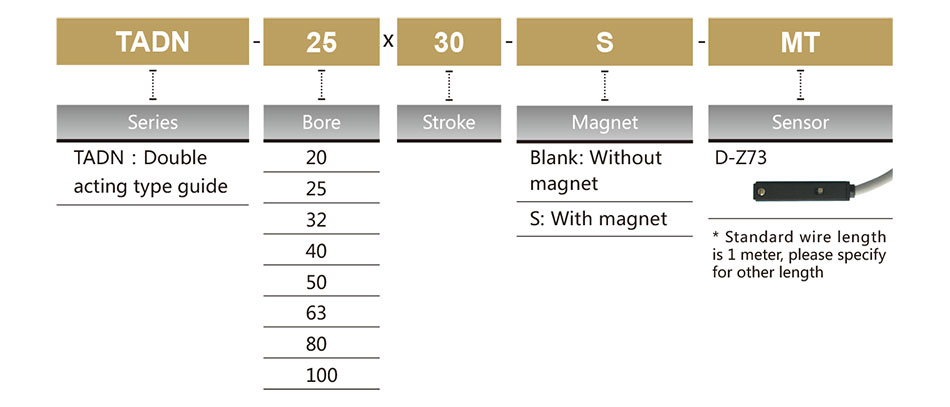 Specification
Bore (mm)

20

25

32

40

50

63

80

100

Operation

Double Acting

Working Medium

Air

Standard Stroke

5~100mm

Operating Pressure Range

0.1~1.0MPa

Proof Pressure

1.5MPa

Operating Temperature Range

1.5MPa

Operating Speed Range

30~500mm/s

Port Size

G1/8