Feature
● The strength and light valve body is made of quality aluminum alloy.
● The regulator has balanced structure and is featured with good precision and stability.
● The oil cup is more convenient to be oiled.
● The drainage and oil interval is longer depending on the extended type of water cup and oil cup.
● Two combination and three combination share the same bracket and the separated unit including regulator and filter and filter & regulator have their own bracket for easier maintenance.
Ordering Code
Symbol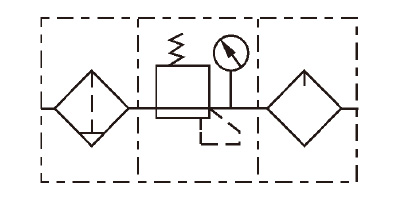 Specification
Model

JC20-02

JC21-02

JW20-02

JR20-02

JF20-02

JL20-02

Rated Flow

500

500

550

550

750

800

Port Size

1/4

1/4

1/4

1/4

1/4

1/4

Filtration

25 μm

Maximum Working Pressure

1.0 MPa

Proof Pressure

1.5 MPa

Operating Temperature Range

5~60 ℃

Adjustable Pressure Range

0.05~0.85 MPa

Recommended Lubricant

ISO VG 32

-

ISO VG 32

Bowl Material

Polycarbonate

Polycarbonate

Cover

Without

Drain Function

Manual Drain

Manual Drain

Manual Drain

-

Manual Drain

-

Valve Type

Relieving type

-

-

Components

Filter

Filter &. Regulator

-

-

-

Regulator

-

-

-

-

-

Lubricator

Lubricator

-

-

-

-