APPL:201330366828.5
Features
1. Inner exhausting structure and no pollution.
2. Low power consumption of 1.2W.
3. Sliding structure and special to upgrade flow, life time, seal function and response.
4. Special treatment to look after inner hole for less friction, lower starting pressure and long life time.
5. Integrated intallation to save space.

Internal Structure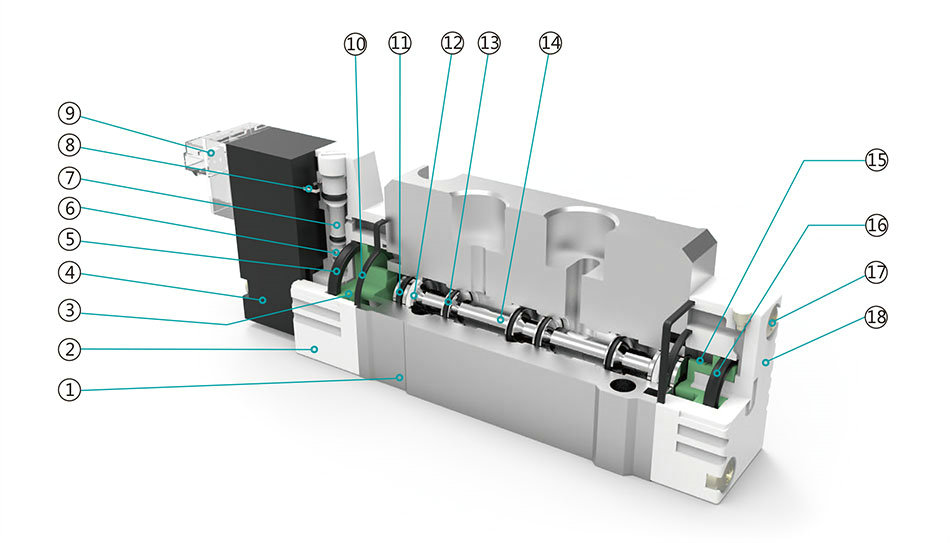 Parts
| | | | | | |
| --- | --- | --- | --- | --- | --- |
| Number | Name | Number | Name | Number | Name |
| 1 | Valve body | 7 | Mannual ride spindle | 13 | Flat ring |
| 2 | Pilot seat | 8 | Plug unit | 14 | Valve spool |
| 3 | Pilot piston | 9 | Armature | 15 | Reset piston |
| 4 | Cross slot pan screw | 10 | Dysmorphism seal | 16 | Reset piston Y plug |
| 5 | Piston Y ring | 11 | Valve spool Y ring | 17 | Cross slot pan screw |
| 6 | Spring | 12 | Anti-friction seal | 18 | Back cover |

Flow Chart


Ordering Code


Specification
Model

JSY150-06

JSY152-06

JSY15BC-06

JSY153P-06

JSY153E-06

Valve type

5/2 way

5/3 way

Effective cross section area

8.3mm² (CV = 0.49 )

7.2mm² (CV = 0.42)

Port size

Inlet=Outlet=Exhaust=G1/8"

Working medium

40 Micron filted air

Working pressure

0.15~0.7MPa

0.1~0.7MPa

0.15~0.7MPa

Max pressure

1MPa

Working temperature

0~50℃

Power consumption

1.2W

Switching frequency

5 Cycles/sec